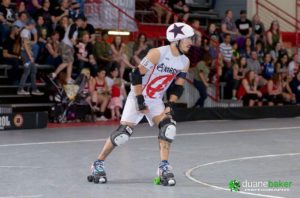 Each month, the Men's Roller Derby Association selects a skater that we believe to be the embodiment of the values we represent and the achievements that we wish to see all of our skaters attain. This skater showcases teamwork, dedication, and sportsmanship both on and off the track. We believe that these values are the building blocks for any successful league, team, skater, and person. This month, the MRDA is pleased to announce our choice for Skater of the Month to be: Pb&Jam (Patrick) of the Austin Anarchy.
We were able to ask Pb&Jam some questions about his role in the derby-verse and the interview is posted below.
Pb&Jam
915
Austin Anarchy, Deserticons, El Paso Deadbolts
Pivot, Blocker, Jammer
4 years
What got you into Roller Derby?
Roller derby runs in my family. Long story short, my mom one day decided she wanted a men's team and so I gave it a try. All it took was me putting on someone else's skates once and I was in love.
What is your biggest accomplishment thus far?
Definitely winning an MVP as a jammer for Team Riedell against Team Antik at my first RollerCon in Dirty Larry's skates. Lol
How do you push yourself to be a better athlete?
Finding support from teammates, friends and family have always been my go to. More importantly, staying happy and having fun! I feel like that alone will set you apart from any competition.
What are your goals for the upcoming season?
Having played 5 games, taking the most painful shower in my life, and winning bronze at Midwest Derbyfest last year, I knew I wanted to give it another go and come home with the gold this season. With Austin Anarchy on the rise, I have no doubt we have what it takes to sweep the competition this year! "Who are we?!"
Who inspires you most?
The number of individuals I've met and continue to meet in this sport that inspire me grows daily. From skaters in Mexico, to friends and teammates at Mashups, that's what makes roller derby so great in my opinion. But, if I had to select a few individuals who I can say truly inspire me beyond words, it would have to be my FAMILY. Having my mom teach me to skate and having my brother as well as stepfather take the track with me each game, I find staying motivated and hungry easy. That's what makes us that much stronger!
What do you do outside of derby?
Currently saving money up for school and working on my early childhood education degree. When I'm not working at HEB, I find myself going out to the movies, being outdoors, playing video games, drinking, lifting or napping.
What song do you listen to to get pumped before a bout?
"It takes Two" by Rob Base & DJ EZ Rock
Always gets me loose and in my zone! Dancing is a great form of cross training. 😉
What advice would you give to new skaters?

Stay out of your comfort zone
Posture is everything in derby
A single high five goes a long way

Anything else you would like to share?
Thank you to everyone who has ever been involved with my adventure in this amazing sport. Without each one of you, I would not be receiving the honor of being named an MRDA skater of the month. Things change, but I will never forget where I came from! Always El PASO strong!