Each month, the Men's Roller Derby Association selects a volunteer that we believe to be the embodiment of the values we represent and the achievements that we wish to see all of our skaters attain. This volunteer showcases dedication, enthusiasm and ability both on and off the track. We at the Men's Roller Derby Association cannot overemphasize the importance of dedicated volunteers and officials. This month, the MRDA is pleased to announce our choice for Volunteer of the Month to be: Pettichoke!. We were able to ask Pettichoke (or Petti) some questions about their role in the derby-verse and the interview is posted below.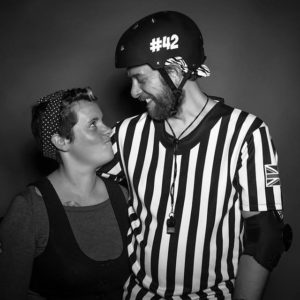 Derby Name: Petti
League Affiliation: Eastbourne Roller Derby
Job performed for that league: HNSO
Years in derby: 6
What got you into roller derby?
I was looking for a new hobby and saw the Brighton Rockers skating in the Pride parade. Whilst I was waiting for the next intake I dabbled in a bit of NSOing and it kind of took off from there.
What is your biggest accomplishment thus far?
It's going to sound cliché, but I'm so lucky to have the variety of games that I do under my belt. I penalty tracked one of the first men's games in mainland Europe (for those that remember Black Jacks vs White Trash). But I also penalty tracked the Women's World Cup final. Such different stages to perform on, but both epic memories.
What are your goals for the upcoming season?
At the start of the year I set myself three goals:
1) To tournament head more – big tick
2) To try my hand at a more game-scheduling based role – so for the WFTDA I have now done GTOing and I kept things afloat at Battle of the Beast this year, despite the ceiling's bests efforts!
3) To help others achieve their goals – which I hope I am starting to achieve with some of the bootcamps I am running this year
Any fun/hilarious/exciting stories from your time in derby?
Many!
Working roller derby at any level is always full of banter…and officials are probably the worst for this. At the 2014 MRDWC, you may have thought that Australia v Wales or the phenomenon that is Ninjapan were the highlights of the tournament, but for me it will always be how many times we managed to wish Kick'ard happy birthday.on every single day of the tournament. We are a very easily amused bunch!!
Who inspires you the most?
A couple of years ago I was approached by one of the members of my league. She explained that some people in her care loved roller derby and wanted to be involved somehow. We figured that by breaking down NSOing tasks into smaller bitesize chunks, and with the right adaptions, NSO roles could be accessible to all. It opened my eyes to a whole different way of looking at officiating and took it away from the perfection that people often crave. So Deano, AJ and Charlie, thank you for opening my eyes to how truly inclusive roller derby can be.
What do you do outside of derby (work, fun, etc)?
My "real world" job is an account exec for a web company. I also have my fur-baby Jammer. He's pretty much the star of Eastbourne Extreme every year!
What advice would you give to new derby peoples?
Specifically for officials – Apply for things. If you can afford it (mentally and monetarily) do all the things. The best way to learn is to absorb from others. Even after 6 years I'm still picking up little tips and hints to help me perform better. As long as you are still smiling when you do it, do everything 🙂
Anything else you would like to share?
Umm – not that I can think of :-/