Each month, the Men's Roller Derby Association selects a skater that we believe to be the embodiment of the values we represent and the achievements that we wish to see all of our skaters attain.. This skater showcases teamwork, dedication, and sportsmanship both on and off the track. We believe that these values are the building blocks for any successful league, team, skater, and person. This month, the MRDA is pleased to announce our choice for Skater of the Month to be: Willverine of the New York Shock Exchange. We were able to ask Will some questions about his role in the derby-verse and the interview is posted below.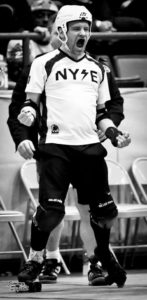 Skater Name: Willverine (I prefer Will)
Number: 10
League Affiliation: New York Shock Exchange
Position: Blocker
Years in derby: This will be year #6
What got you into roller derby?
Watching Gotham Girls Roller Derby home teams and seeing how athletic and competitive the skaters were. I thought, "I could do that." I asked about being a ref, found out there was a men's team, and dove in from there.
What is your biggest accomplishment thus far?
As a team member, I'd say beating the Gatekeepers in the 2013 semi-finals at champs. After that, our (NYSE) big comeback win against Magic City at 2012 champs (down 60 at half).   Managing Brooklyn Bombshells (Gotham Girls Roller Derby home team) to an undefeated season and championship in 2015 was also a huge accomplishment for me.
How do you push yourself to be a better athlete? Ha, that's funny. At my age, (44) it's more about not pushing myself too hard so I can keep playing. Injuries, even little ones, tend to hang around longer these days.
What are your goals for the upcoming season?
My goals are to play hard, be as useful on the track to my teammates as possible, and be the best teammate I can be.
Who inspires you the most?
It's hard to keep this one short. I take inspiration from many places. My partner, Miss Tea Maven, how hard she works and how determined she is to improve. I take inspiration from that. I'm inspired by my teammates and my opponents. If there was one opposing skater that comes to mind it is D. Botts. I hate playing against him, but I love it at the same time. Personally, I think he's the best mens skater out there. Skill wise he is bananas. I'm decent, but he always makes me look like an idiot at least once during a bout. I'm a small skater too, so I appreciate his ability to defend against any size opponent.
What do you do outside of derby (work, fun, etc)?
I work as a sound engineer at Sterling Sound. Fun? Derby mostly. I spend a lot of time with my partner, which is not only fun but also involves a lot of derby. Apparently there isn't much outside of derby!  I also enjoy playing soccer in the summer when the weather is nice.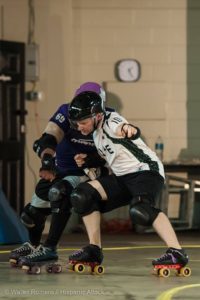 What song do you listen to get pumped before a bout?
Believe it not not, "All Fired Up" by Pat Benatar.  I don't actually listen to it, it just plays in my head. I wonder if anyone reading this will have any thoughts on that.
What advice would you give to new skaters?
Work on footwork and basic skills – master them. You can't play at a high level if you have to think about your feet. Don't be rigid, be flexible and strong. Decide what you want out of derby.  You can skate with a B team solely for enjoyment or go for it with an All Star team and the competitive expectations that go along with that. It really depends on how dedicated you want to be or how much time you can devote to the sport. Choose whichever brings you the most pleasure.
Anything else you would like to share?
I love competition. I like winning but I don't hate losing. I love being in a close bout, When you're not sure if your team is going to pull out the win. I love the tension, the pressure, I love it. I always believe in my team. I'm proud of my team if we win or lose. I'm proud of the team we lose to, especially when its close. I guess I just love playing. Let's make sure after the bouts over we remember how much fun we're having.   
Please join us in congratulating Willverine as the Men's Roller Derby Association Skater of the Month for March!