The Men's Roller Derby Association is excited to announce the Tournament Head Officials for the MRDA 2017 Championships in  Cwmbran Stadium, Cwmbran, South Wales October 13-15, 2017. We are very excited to have these officials join us in our biggest MRDA Champs yet (12 teams! 3 days!) so please join us in a big round of applause for:
Tournament Head Referee: Pol E. Dangerous
Tournament Head Non-Skating Official: Petti
Apprentice Tournament Head Referee: Ninja Sass'em
Apprentice Tournament Head Non-Skating Official: Sara Tonin
Many thanks to everyone who applied, and please join us in congratulating them. Here's some background on these amazing officials: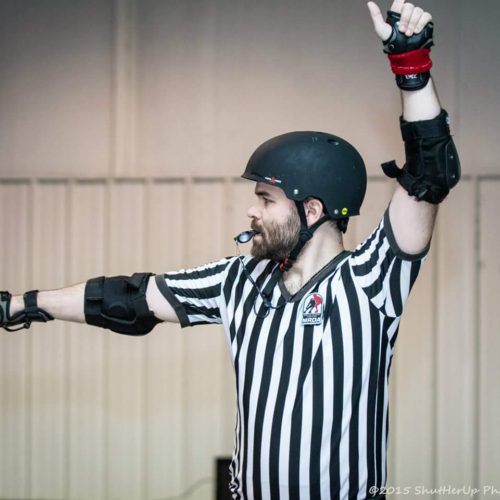 THR: Pol E. Dangerous
Pol E. Dangerous has been officiating roller derby for over 7 years. He has traveled all over the United States officiating all levels of MRDA and WFTDA. Most notably, he has been to four of the last five MRDA championships, being selected as an Alternate Referee, OPR, IPR, and JR. He has also been selected as a CHR for the first MRDA North American playoffs. He brings experience as a THR from Brewhaha 2016, Classic City Crush 2016, River Valley Riot 2016, and Tiny Tourney 2017.
Photo credit: Kit Ruff – Shutterup Photography
THNSO: Petti
Petti has been heavily involved in roller derby since 2011. A proud member of Eastbourne Roller Derby – an Open to All league, means that Petti has continued to balance her dedication to Men's, Women's and Junior competitive play. Being selected as THNSO for the MRDA Championships rounds off her trio this year – along with THNSO for CAT (the first junior tournament in Europe) and THNSO for the Women's World Cup. It's a good job she really loves spreadsheets!
Photo credit: John Hesse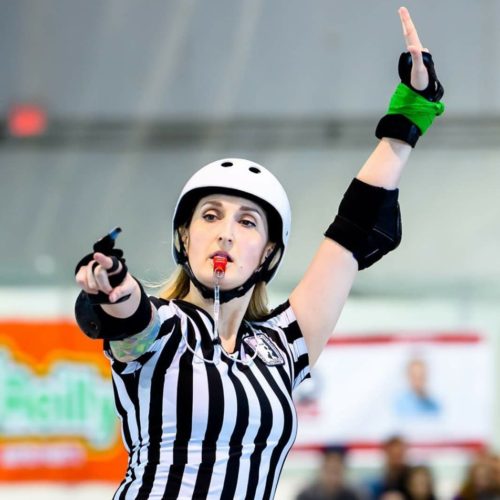 Apprentice THR: Ninja Sass'em
Ninja Sass'em will be travelling across the pond from St. Louis, Missouri where she is the Head of Officials for both Arch Rival Roller Derby and the St. Louis GateKeepers. A 7 year WFTDA veteran, she crossed over from D1 skating to officiating full time in 2016. An early champion of Men's Roller Derby, Ninja has dedicated her time to the MRDA in many capacities; as Regional Officiating Rep, Officials Area Coordinator for the US as well as helping establish the Compliance Committee. With 5 years of officiating experience and 3 MRDA Champs under her belt as an official, she eagerly takes on the new task of Apprentice Tournament Head.
Photo credit: Mr. McWheely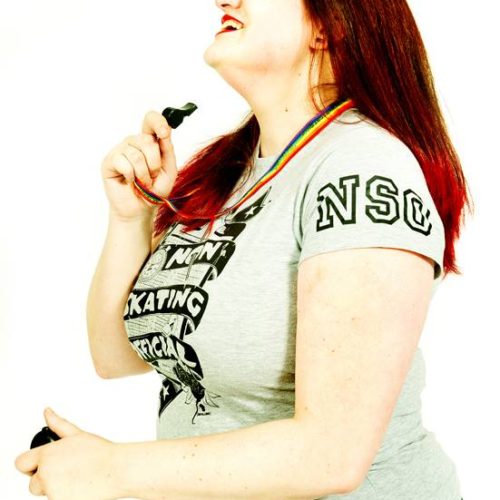 Apprentice THNSO: Sara Tonin
Sara Tonin is an independent, MRDA recognized official, having been previously affiliated with Manchester Roller Derby. She has been officiating since early 2015 and in that time has worked at the past two Men's European Cups, 2016 Men's Roller Derby World Cup, and many other European tournaments. She has been the THNSO for the men's side of the British Roller Derby Championships for the past 2 years and has a particular love for statsbooks, having recently become a stats processor for MRDA to help with sanctioning. In those few moments outside of derby, Sara enjoys pole and aerial fitness, fussing over her cat, and knitting.
Photo credit: Shirlaine Forrest
Want to officiate alongside them? If so, there's still time to apply, but don't wait – general officiating applications close on
June 30, 2017
:
See you in Wales!