Each month, the Men's Roller Derby Association selects a skater that we believe to be the embodiment of the values we represent and the achievements that we wish to see all of our skaters attain. This skater showcases teamwork, dedication, and sportsmanship both on and off the track. We believe that these values are the building blocks for any successful league, team, skater, and person. This month, the MRDA is pleased to announce our choice for Skater of the Month to be: The Saint of the St Louis Gatekeepers
We were able to ask The Saint some questions about his role in the derby-verse and the interview is posted below.
Skater Name: The Saint
Number: #1
League Affiliation: St. Louis Gatekeepers
Position: Pivot/Blocker
Years in derby: 7 years
What got you into roller derby?
A strong desire to punish my body on a weekly basis. Also, one of my best friend's wife played derby, the possibly immortal Chokehold Chanel. After watching a number of her bouts, Mr. Pink, Gatekeepers' coach, tried for months to get me to join the Gatekeepers. My only regret is not joining sooner.
What is your biggest accomplishment thus far?
Winning MRDA Champs two years in a row!!! We won't talk about my local league win/loss record. I am also extremely honored to coach the Arch Rival All-Stars, earning a trip to WFTDA Champs the last three seasons in a row.
How do you push yourself to be a better athlete?
A breakfast consisting of 10 raw eggs every morning, followed by 1,000 jumping jacks, followed by another 10 raw eggs. Honestly, cross training is a huge component to improving as an athlete. I do my best to cross train 4 times a week. The weekly highlight is an early morning Saturday morning workout with the jamming core of the Arch Rival All-Stars… nothing makes me feel slower… or taller…
What are your goals for the upcoming season?
Going for that 3-peat! A close second, doing my best to keep S. Bower from knocking be down at practice.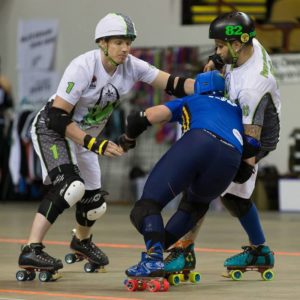 Who inspires you the most?
I go to work every week with a bunch of dudes who didn't even know how to roller skate when they started derby. Now, they are 2-time MRDA Champs. The Arch Rival All-stars, setting history every season, are a wonderful group of really hard working, talented humans. One in particular, SWANSON, I can only dream of being half the skater she has worked so hard to become. You should check out the tournament MVP's player of the month profile over at WFTDA… it's way more charming than this read.
What do you do outside of derby (work, fun, etc.)?
When I am not practicing, training or coaching roller derby? I spend the rest of the time not getting enough sleep and adding to my sneaker collection.
What song do you listen to get pumped before a bout?
Check out "The Chief" by Jidenna. It's a dope album.
What advice would you give to new skaters?
Have patience with yourself. Improvement in this sport isn't a straight line to the top. Everyone has ups, downs and plateaus. Also, invest in a good helmet, your brains are important.
Anything else you would like to share?
I want to take a moment to gush about the STL derby community. The support, the love… it's like family. In times like these, we all need family.
One final note… my butt is real.